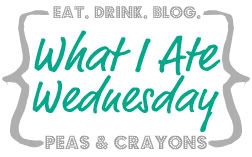 Good morning, What I Ate Wednesday friends! Life is returning to some kind of normal. For example: I'm writing this little entry from a bakery window seat, sipping coffee and keeping watch over my … bike! Patrick and I road here together and he went off for a seriously long ride. It was nice to get back on muh Stinger. And now, a day of food …
I ate this stuff
What a normal day. That's nice sometimes. Eggs-and-toast breakfast. Something-or-other-leftovers for lunch. Quick egg dinner. Coffee, twice.
I like the rhythm of foods I eat over and over again. I like getting the timing just right to prep the toast, egg cracked into the pan, salt, butter, spread, flip, plate, eat.
And then I get to repeat the familiar happy feelings of biting into the half-cooked yolk, sopping it up with bread, savoring the final bites of buttered toast sprinkled with coarse salt. Happy, happy, happy.
Happy morning
This is real, and sometimes the egg looks gross.
We ran out of Counter Culture! Trusty instant, it is.
Post-gym!
Because, guess what? I went to the gym. It was weight-lifting class for me, and it did that thing … where it hurt good.
A little bowl of yogurt (hiding), granola, and clementine slices. So refreshing for a tired-out girl.
Mash up lunch
My taste buds were pretty confused. Mexican? Italian? Pasta? Pizza? Taco? I like using up leftovers for lunches, so I sauteed mushrooms and added leftover pasta sauce, then drizzled that over some tortillas crisped up with cheese. These were messy and yummy but didn't taste like anything in particular since they tasted like so many things.
Afternoon cup & bite
To fuel afternoon granola-making.
Clementine, just because it's so darn cute.
It's what's on the inside that counts
Inside this bowl of stuff is a broken frittata made with swiss cheese, leeks, and red potatoes (Read a quick run-down below*). Everything came together in about twenty minutes; we just need more practice depanning.
So I erased the ugliness of dinner by making my dessert extra cute. A tiny slab of pound cake, with a little chocolate on top. I zapped it in the micro so Miss Chocolate would get all melty. Aptly simple and decadent.
*Quick run-down of a simple frittata
- Pre-heat oven to 350F.
- Boil two red potatoes and dice. Set aside.
- Heat oil in an oven-safe skillet over medium heat until shimmering. Add one thin-sliced, cleaned leek and cook until softened (about five minutes).
- Meanwhile, mix six whole eggs with one-third cup grated swiss, one-quarter teaspoon salt and one-quarter teaspoon black pepper
- Add potatoes and two tablespoons fresh parsley to pan, and stir to coat. (We used one teaspoon dried parsley since we didn't have fresh. Not the same, but it'll do.
- Pour egg mixture into pan and stir until bottom starts to set. Swirl pan, lifting cooked egg to allow uncooked bits to stream to the pan bottom. Continue until most of the egg is no longer runny.
- Put pan in the oven and finish cooking until egg is completely set, about five minutes (maybe less depending on your oven). Depan immediately. Maybe do a better job than we did.