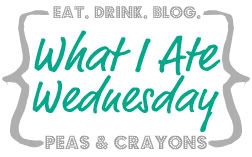 What I Ate Wednesday friends: my day, it was full of things! Mostly walky things. And talky things. Write-y things, too. Today, every plate of food or cup feels a little more like a story.
What I ate (and did)
Breakfast:I gone and done it. I replaced my two-toasts-and-egg breakfast (plus butter and sea salt) — something I ate for nearly a year solid — with oatmeal. But not regular oatmeal. I mean, not regular to me. This oatmeal is cooked up with fruit sliced into it. And without sugar. Just fruit (an apple for the bowl above), oats, cinnamon, salt, pecans. Then top it with peanut butter and stir. Yeah, I totally borrowed this from Kath. So thank you, Kath, for introducing me to the wonder that is heated fruit. And I highly recommend banana slices — soft, puffy, candy bites! No need for sweeteners.
Mid-morning snack: My sister(-in-law) was in town this weekend, and her plane didn't take off until midday. Enough time for a run! Together! I almost always run by myself, so I was excited to have a partner and see how she does things. I'm a newbie to running; she has a lot more miles under her belt (she's running a half-marathon in March!). And what I didn't know was that I was excited to have someone to talk to during my run. I like my solitude, yeah. But this was fun. This made it easier. And we ran a 5k this morning without a thought.
By the time we got home, I needed a snack. Clementine, please. And just a little later, another snack. Juicy pear. The morning was good. Full of sisterly talk and running, cleaning, eating good-for-us foods. Too bad she had to head out on a plane, all the way to New Orleans.
So far away!
Lunch: Durn this was tasty. Quinoa mixed with: a can of tuna; a bit of pesto; a bit of plain yogurt; red onions (chopped); salt; pepper; nutritional yeast (just to try it out); black olives. Stirred good. Pile of spinach. This was improved only by taking it to our porch swing (built by my brother!) and eating it while listening to the radio, then to my husband on the phone.
My view.
The porch swing. Isn't beautiful? My brother made it shortly after Patrick and I knew this would be Our House. It was the first thing that went up when we moved in.
Midafternoon coffee: My time at Krankies is dear. I'm resolved: I'll come here once a week, order a cup of drip, write, think, plan. But just once a week. I went so far as to buy myself a gift certificate, just enough for eight weekly visits.
And this day was perfect; so good that I walked here, bag strapped to my back and boots on my feet. Notebook for (paper!) journaling, notepad for letter-writing to old friends, laptop for being productive. Coffee for being very productive.
It was all sore feet and warm belly.
Pre-dinner snack: A hand-in-jar serving of homemade granola. Dogger keeping watch.
Dinner: OK, so the dinner story is simple: I got home to discover a "Welcome to the neighborhood!" coupon from Whole Foods. What was it for? A free family-sized meal. Free! So I rushed out, of course. I grabbed the spiced turkey burritos (other choices were pasta primavera or chicken tenders), along with the free family-sized salad.
Marvelous, right? The burritos needed just an extra sprinkle of salt (and goat cheese for good measure), but otherwise the meal was satisfying. Not so satisfying was this:
This is half the amount of burritos that came with the dish. It's sitting in a very standard-sized 9-inch-square pan. And guess what the whole thing was billed as? Enough for a family of four, or two to three adults." Holy crap. With that logic, what you see above would have fed a single person. I fear for the future of our country when even Whole Foods seems to misunderstand portion control.
Dessert: I'm sure I'll write in more detail about this later (it's on my to-do list) … I'm cutting out sugar, except for honey. On a whim, and for a week. And then possibly a month. And then maybe for most of my life (excluding joyous celebrations). Guess what I would miss like hell without sugar? Chocolate. I got a craving the other night, and I experimented this way:
I had unsweetened chocolate in my pantry. We always have honey. So I melted an ounce of the chocolate (in the microwave, in a little ramekin, about a minute-and-a-half), and then I poured in 10 grams of honey. Stirred like crazy. Watched the mixture go from silky smooth sauce to grainifying paste to dookie-looking-ball. I ate that stuff up (with a sprinkle of granola), because it was delicious. So bittersweet. New thing in my life. Forever and always? Maybe I'll marry it since I love it so much?