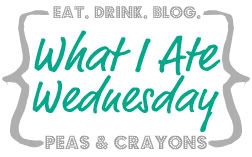 You know what, What I Ate Wednesday friends? Yesterday I was all "know what I should do, self? I should take photos of food. I'm totally gonna." So I did. So simple.
What I ate in our house
I'm gonna be infatuated with our new house for a while. Maybe for, like, thirty years. So now you know. Anyway, yesterday's food was familiar, with a touch of new. And a touch of "it tastes better when it comes out of this kitchen."
Morning coffee, of course.
That egg? It was hard-cooked. So I sliced it and laid little yellow-white disks on that bread, which I first made into buttered and sea-salted toast.
This little shelf? Belonged to my grandfather. When he was a child. While our house is still too big for the few things we have to put in it, I'm really enjoying how much attention little humble pieces like this command. Also, see the clementines? I ate one.
And then I ate a dried fig (half-bit), just because.
A little hard to make out, but lunch was black bean hummus-y dip, rice, sauteed mushrooms, and fresh spinach. The blueberries were on the counter to keep me busy while I sauteed the mushrooms.
Post-lunch (and then later, post-dinner) sweet: Chocolate-covered raisins. I'm making myself take no more than four of these suckers at a time, because they are one of my favorite, favorite treats. Left without limits, I would eat a jar of them (and there is a jar of them in our cupboard).
Coffee at our local shop, Krankies. Where I also picked up a bag of beans for the coming week, and discovered that there is a Winston-Salem bean-to-bar chocolate maker. I don't know enough about chocolate-making. What does it mean that they use dried milk and cocoa butter in the bar? It tasted good, but I want to know more about what goes into it …
Dinner: Pasta, pesto, oven-roasted broccoli (officially my new favorite), goat cheese. Yarm.